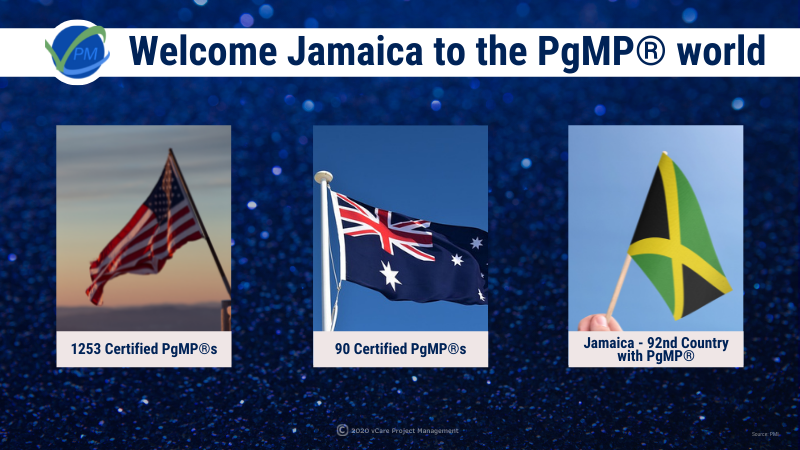 The growth of PgMP® Professionals around the globe is evident from the fact that the certification opens doors to various career aspirations. PgMP® is a sign of superior experience and skill, giving one a distinctive advantage when compared with peers. The benefits of pursuing a PgMP® are innumerable that the stats in itself are high proof.
The total number of PgMP®s as on February 1, 2020, is 3158, amongst which vCare Project Management has produced 269 PgMP®s, i.e. 9% of the total global PgMP®s. The month of January 2020 has contributed 26 PgMP®s to the Program Management Community. The number of PgMP®s from vCare Project Management in January 2020 is 5, which is 19% of the total PgMP®s. Congratulations to the 26 new PgMP®s.
PgMP® Stats
The USA is leading the PgMP® club with 1253 PgMP®s which is 40% of the global PgMP®s
With a total number of 380, China is following the USA by adding 25 new PgMP®s to its count since Dec 1, 2019.
India is in third place with 350 PgMP®s
Australia PgMP® numbers have reached 90 (10 more needed to make century, probably if you can pass your PgMP® exam within the next 3 months, you will be in the Top 100 Australian PgMP®s)
Jamaica has entered the world of PgMP®.
My PgMP® mentoring journey with Australia has always been a great one. Our collaboration with PMI Sydney Chapter, PMI Melbourne Chapter, PMI Adelaide Chapter, and PMI Queensland Chapter had been a fruitful one to many PMI certification aspirants. vCare has supported 32 PgMP®s (as on February 1, 2020) from Australia thus far, which is 36% of the total Australian PgMP®s. As stated in my previous PgMP® article, I expect Australian PgMP® numbers to touch 100 before May 2020. The month of March 2020 is going to be of great benefit to the PgMP® aspirants in Australia. The PgMP® Boot Camps in Sydney and Melbourne will help Senior Project and Program Managers to pursue their certification aspirations with my personal mentoring. Check out the video to know more information about it.
Please find below My PgMP® Training Calendar for the first half of 2020. After my successful bootcamps in Saudi Arabia, I have scheduled programs in Singapore, Sydney, Melbourne, Seattle, Houston, New York, Washington DC, Chicago and Toronto before visiting Europe in Mid 2020.
Besides Germany and Italy, my contribution to the success of PgMP® professionals in Europe is extending to Greece too. Theofanis Giotis, First President and Co-Founder of PMI Greece Chapter and CEO of '12 PM Consulting', is supporting me for conducting the PgMP® Boot Camp between May 15 and 17, 2020 at Athens.
I strongly hope that these boot camps will benefit you in many ways and make your 2020 more productive. Apply early to avail higher discounts and group benefits. Also, kindly share this information with your friends who would find it useful.
For more information, visit https://vcareprojectmanagement.com/collections/pgmp-classroom.
Check Out our Online Mentoring Programs,
Program Management PgMP®- Online Mentoring Programs – Click Here
Portfolio Management PfMP®- Online Mentoring Programs – Click Here
Project Management PMP®- Online Mentoring Programs – Click Here
PgMP4U is an online education mobile application built for applicants who are time-constrained to prepare for their exams. The app enlightens you with all essential practices required for attending the PgMP® exam. The app helps one to prepare for the exam, ON THE GO.
Google Android: https://bit.ly/30sau42
Apple iOS: https://apple.co/2QUngkx
You can subscribe to my personal YouTube Channel using the link http://bit.ly/2RMvsTv. Here you will find videos of success stories, Q&A sessions and interactions with project-program-portfolio management experts. Please find my latest interaction with Thomas Walenta where we discuss the Transition of a professional from being a Project Manager to become a Program Manager. Also we have discussed about examples of some outstanding programs.
You can clear your doubts with me by typing your queries along with #AskDharam in the video comment section. Selective questions will be clarified in later videos whenever I have time. Subscribe to the channel and get notified on new videos.
Our telegram group can assist you further in your PgMP® exam preparation. It is a very active and interactive group with discussions taking place between aspirants on a day-to-day basis. If you are interested in this group, download and install the Telegram application and message me to add you in the telegram group.
For any questions related to Project Management training and certifications, you can book an obligation free 15 minutes session by visiting www.dharamsingh.co
Email: dharam@vcareprojectmanagement.com
 "Working together for SUCCESS."