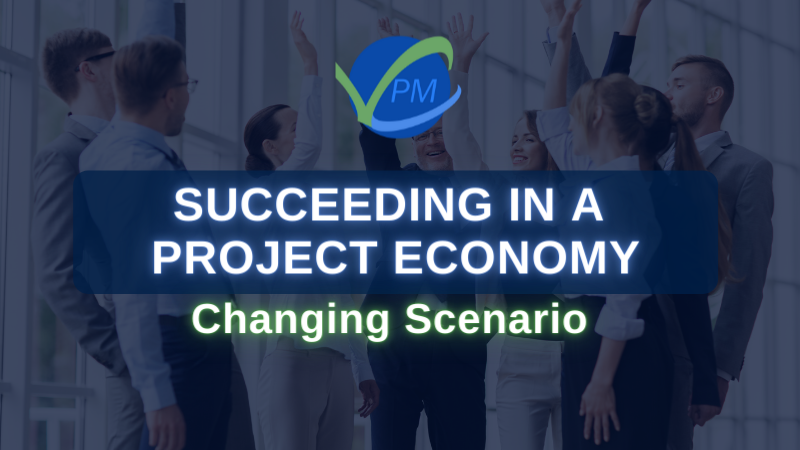 What is a Project?
PMI defines endeavour as "a temporary endeavor undertaken to create a unique product, service or result". Projects give an organisation focus to excel. "Project" is a huge, broad word that has such rich possibilities in terms of helping define how people do what they do and how organisations achieve their goals, create change, and deliver value. We shouldn't think of projects by their features or attributes but on what needs to be done and figure out the best way to do it. It is expected that by 2027, employers will need approximately 87.7 million individuals working in project management-oriented roles.
Everyone has a project. People have projects on behalf of themselves and on behalf of others; they have their projects, and they have collective projects. We do projects at school, and we carry out projects at work. Add to that all our spare time projects, and how it is sometimes hard to tell work projects from spare time projects. Projects cut across. (Jensen, 2012)
What is project economy?
PMI defines project economy as a Paradigm shift in the business world toward using projects to handle work and solve problems. It emphasises that organisation in general needs project leaders who can help to manage real-world challenges. The Pulse of the Profession report well backs this aspect.
The Need for Project Economy: Changing Scenario
Projects with unique objective induce a change in the organisation and society at large. The project approach takes all the stakeholders in the process of obtaining the project objective. Project managers are required to be inclusive, and they cannot take a parallel approach. The project economy drives this change.
Though the management thinkers like Frederick Taylor, Henry Ford, Dr William Edwards Deming recommended continuous improvement of the business's operations, these improvements were considered projects and executed as projects. Advancements in computing and technology have driven operational excellence at the core. Yet, disruptive technologies and the speed of technology growth drive differently, and it calls for many projects. Projects are seen as a new norm for creating value and help organisations to stay ahead in the curve.
Project work has been seen as more administrative and seen as a low value from the frontline of the management due to extensive documentation and paperwork. Rationale, business Case and benefits were not given sufficient importance in project management methodologies. As the technology and tools for collaboration are fast-changing, agile triggers, project aspects like "Working software over documentation", "individual interactions over process and tools", etc., are largely adopted. Technology and engineering help bespoke run the project, making the project managers at the centre of the process. With automation taking over, projects are becoming a critical part of the organisation. Now everything around the people lives are becoming projects, and this fact can be emphasised with every professional's career as a good example.
People keep track of changes from previous jobs, recording and sharing their learnings. They move from one job to another compared to previous situations where people stuck to one job for a longer tenure. As they move to different companies, the learning is multi-fold and its applied cutting across domains enriching experience.
As organisations are growing more in complex and chaotic environments, "Project Oriented Methodology" helps define action and helps manage change appropriately with a specific set of goals. Project management methods help to improve the performance of individuals and teams.
Monitoring and assuring the quality through projects help us assess its value and deliver it. Project management strategies help to keep costs on budget and reduce the risk of budget overrun. Learning lessons from failure and being agile helps to adapt. Project professionals play a pivotal role in managing the projects and contribute with the right blend of technical and people capabilities. Hence projectification would be the future order, reiterating the fact, where it is expected that employers will need around 87.7 million project management professionals by 2027.
What is Projectification?

Projectification, the term was introduced by Christophe Midler in 1995 in his research paper "Projectification of the Firm: the Renault Case". In this, he analysed the relationship between project management and organisation, with a case study of "Renault" on "Projectificiation", an organisation undergoing a four-phased transition from the 1960s. This study is believed to be a construct of project orientation taken from the novel management approach "Management by Projects" by Gareis in 1989.
"The Project Revolution- How to succeed in a project Driven World"
In the book "The Project Revolution- How to succeed in a project Driven World", Antonio Nie recommends a Project canvas composed of 14 dimensions that are capable of influence and determine project success across four domains:
Why?

Why is this project taken up?
What is the purpose and passion behind the rationale?
Why successful implementation important?

Who?

Who is accountable?
Governance of resources and delivery

What, How and When?

Details of Definition, Design, Plans, Milestones, Cost, Risk, etc.,
Power Skills: Empathy, Motivation, Change management, Communication.

Where?

Culture
Prioritisation
Organisation context
Check out my discussion on this topic with Reinhard Wagner in YouTube
You can subscribe and follow my podcasts and interviews with Project Management Experts on YouTube at https://bit.ly/2NDY8wd
You can subscribe to vCare Project Management YouTube Channel to catch future videos of our Q&A series and certification success stories using the link https://bit.ly/2YF0wJl
For any questions related to Project Management career, training, and certifications, you can book an obligation free 15 minutes session with me by visiting https://bit.ly/2SbhTOK
Conclusion 
Projectification is becoming the order of the day, and it's going on increasing trends. As a project manager or project professional, it's important to understand how organisations, government and stakeholders are evolving. The disruptive changes happening in technology and rapid growth is influencing many facets of project management. As project professional, as we start manoeuvring them, we can create value for others and us for a better world.