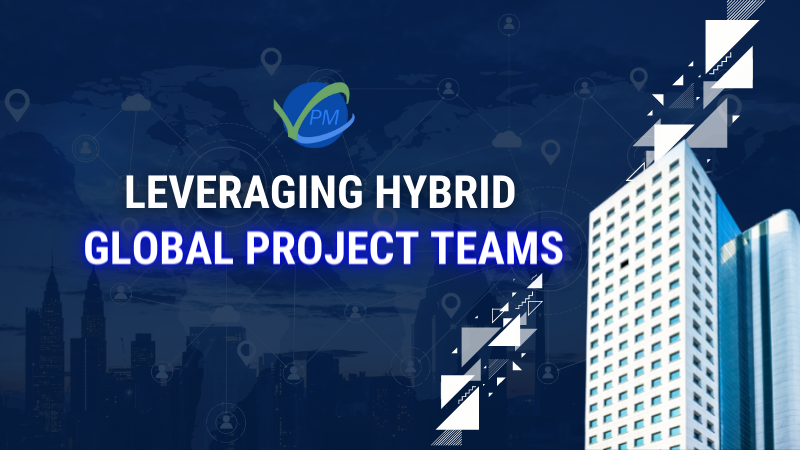 COVID-19 has greatly accelerated the digital transformation across various industries. Hybrid work has become the new norm, visibly seen in the hybrid cloud adoption of up to 20% and a decrease in utilization of on-premises workload by 13%. These statistics indicate that more companies trust cloud-based deployments, and organizations are inclined towards such trends.
Global hybrid project teams
Hybrid global teams adopt hybrid work. This adoption could be more defined as a flexible model with a blend of in-office, remote and on-the-go work approaches. The key focus of this model is to provide more autonomy for employees to be productive wherever they work. Such a move would enable team members to migrate between choices of various locations depending on the work which needs to get done.
These are typically categorized into
a) Flexible hybrid work model – Where employees choose their work location and hours. This model would provide more autonomy and expands the talent pool and diverse thinking, yet it would be difficult for employers to plan capacity.
b) Fixed Hybrid work model – Employees would plan their days and workplace well ahead, or work would be in the office on predetermined days. Such planning might allow in-person collaboration and increases the opportunity for better planning yet would minimize the lack of choice for individuals.
c) Office-first hybrid work model – In this model, a specified number of days are to be worked in the office, and for the rest of the days, they can choose to work remotely. This model gives flexibility to individual choices and maintains company culture and community, yet it would be challenging to understand and manage individual work plans.
d) Remote-First hybrid work model – In this model, the employees are asked to make remote work a priority and occasionally visit the office for training and collaboration. This model would minimize office space and help reduce costs for employers, though employees might feel isolated.
Typical characteristics of Hybrid Team(s):
– Resources spread out across many locations
– Using many work styles and processes
– Different Time Zones
– Collaboration with each other
– Diverse workplace – Home/Office
– Work a few days a week from the office
Current Scenario 
As per the work index trend 2022 report, already, hybrid work is up to seven points year-over-year (to 38%), and 53% of people are likely to consider transitioning to a hybrid workplace in the year ahead
As per the report from "globalnewswire. in", nearly 90% of project teams work in multiple locations, with 48% in multiple locations in one country and 39% in many countries.
A Global Survey of Executives, Employee Experience Experts, and Knowledge Workers, Dimensional Research | October 2020
The above paper examines research that sought to understand the impact of COVID-19 on the workplace, the current state of remote workers, their concerns about returning to the office, and the role technology can play in assisting businesses in their transition to the hybrid workplace.
Working from Home, the New Normal 
58% will work eight or more days each month from home (post-COVID)
98% of meetings will include participants joining from home (post-COVID)
98% share frustrations with video meetings when working from home
Employees Uncomfortable Returning to the Office 
97% of employees want changes to make them feel safer at work
99% of companies are planning sweeping changes to the workplace as a result of COVID-19
94% of companies say the technology would benefit them by providing a safer work environment
Hybrid Work Environment 
77% of larger organizations will increase work flexibility while 53% will shrink office sizes
89% of employees cite frustrations with in-office experiences
96% indicate they need intelligent workplace technology to improve work environments
Leveraging benefits of Hybrid Global Teams
Offices are changing. We are seeing trends of safety/wellness right from the security gate. We are getting into the norm of seating arrangements based on social distancing, touchless elevators, improved ventilation, etc. While we see this increasing trend in hybrid global project teams, we will discuss the benefits and further aspects of the same in detail:
Flexibility and Autonomy
For some, the flexibility mantra is "get connected and get work done from anywhere." The hybrid scenario is, "why don't you get to the office and get some work done." In reality, based on research, flexibility goes beyond that. The members of global hybrid teams are looking for autonomy where they decide when to work from home and when to work from the office. Global project managers understand these expectations and start engaging in models with HR and Administration teams to enable the same. When there is an insistence on specific days or mandates for a specific work location, teams feel stressed, and it becomes an intrinsic threat. Yet, people desire to have in-person connections when they want to work on engagements where there is ambiguity and a need for a physical product or engineering-related aspects. So there are always scenarios that the project or program manager needs to understand and enable an appropriate inclusive approach.
Ease of Collaboration
When there is a clear need to provide flexibility and autonomy to the hybrid teams, it would be fostered and managed through good means of communication. The collaboration tools enable seamless communication with clearly laid guidelines. The guidelines would help set common ground among peers, reporting managers, and clients without going overboard. The tools for collaboration must be standardized and consistent examples of using one tool across the organization must be adhered to.
Inclusive hybrid meetings should occur with onsite/off-site teams across multiple GEOs without opting out. Setting expectations about response times and which communication tools team members should use is critical in reaping the benefits of collaboration. Identify multiple communication channels, including text messaging, video conferencing, or voice calls. Leverage them appropriately, based on the guidelines set. Provide necessary training to enable the team members to determine when to use what. Evaluate needs for increased adoption of tools like JIRA, Monday.com, and Asana for tracking project activities with absolute milestones and timelines. Establish remote-based activities to ensure retaining cultural aspects of the organization beyond work.
Operational Cost
A global talent pool through remote working would help cut operational costs significantly. Fewer people in the workplace means you have reduced unused space, and obviously, you will get financial benefits when you move to a smaller office or use it for different purposes. This move might, in turn, reduce rentals, energy costs, media usage costs, etc. It might also foster creativity in creating a dynamic workplace resulting in better space utilization, further saving costs in terms of fuel for the employees or travel for commuting to the office. Employees are open to selecting the place of liking with less operational cost to work, creating cost-effective and better hybrid teams.
It's also imperative for the HR, administration, and IT Infrastructure team to enable the hybrid work environment by providing support on a reliable internet connection, providing access to collaboration tools, enhanced and responsive help desk, collaboration on files, and minimizing the needs for multiple access credentials for different applications by enabling single sign-on, etc.,
Meeting Team member's needs
Hybrid work models minimize the absences/leave from work for trivial needs or minor issues at home. In case of minor/negligible health issues, employees continue to work from home without affecting the office environment, allowing them to heal themselves and continue performing with the tiniest impact on their health. It allows situations like a single mother or father to take care of a sick kid and provides flexibility to attain a good work-life balance. This kind of work model provides a sense of safety and belonging to the employer, not to repeat that moving out of this option might pose a threat regarding retention issues to HR.
Tracking projects in Hybrid global project teams:
As per the new Global Trends in Project Management 2022 report, there are a few challenges in managing projects in today's hybrid world.
Poor cross-team collaboration
The hybrid team is highly likely to split into many groups like the "us vs. them" mentality. So the relationships between co-workers turn too formal, and many traditional opportunities for relationship-building between team members may fail. In addition, it's more difficult to maintain close friendships with poor cross-team collaboration in hybrid work culture.
Difficulty working in a remote environment
Working from various locations, time zones, and cultural differences may affect the team's coordination. These significant factors can create substantial challenges among the team in a remote environment, including managing projects, remote collaboration, task tracking, and productivity.
Lack of visibility
Information sharing in hybrid teams is frequently uneven and may create miscommunication among the team. This aspect may lead to a lack of visibility, and disparity creates an irrelevant information hierarchy among team members. Hybrid teams should be aware of the problem among the team and set ground rules to ensure that the issues are sorted out consistently.
Time-consuming reporting
The hybrid work culture will likely affect the team's productivity. According to many studies, remote workers work only a few hours daily and spend their free time on social media. This phenomenon means that, despite the best efforts, hybrid teams certainly don't impose the best time in management practices.
Outdated processes
Outdated processes are more than an annoyance that impedes a company's day-to-day operations. They become ingrained in your company's identity, creating impassable trenches between departments, causing team dissatisfaction and inefficiency, and jeopardizing overall success.
Ineffective scheduling
Poor project planning and scope creep are the leading causes of hybrid team failure. Project managers either lack an overview of all tasks and milestones or struggle during unanticipated schedule changes that affect overall delivery timelines.
Difficulty in incorporating agile processes and plans 
It will be challenging to create a hybrid work culture that blends Agile and traditional plan-driven project management principles and practices in the right proportions to fit a given situation. But doing so takes a lot of skill and understanding how to balance the two can be crucial to success.
Outdated software
Hybrid workers also spend an hour or more per week dealing with technical issues, saying they aren't well-supported when troubleshooting problems. In addition, it may lead to a loss of productivity. Forcing employees to use outdated technology and providing insufficient support may result in an organizational brain drain.
How the project manager should equip to handle these challenges:
The project manager has to identify areas where there is a need for physical presence. Explain the dynamics to respective peer members on the need for certain individuals to be in the office for work. For example, the projects that need physical access to the Lab, teams working on embedded products available only in office locations due to client restrictions, etc., a right mix has to be identified, such as fully remote, full onsite, or a combination of both. Project managers should also focus on the schedules considering the global teams involved.
These kinds of challenges mentioned above lead to miscommunication or misinterpretations. Clarity needs to be brought in between the project manager and team members in the hybrid global teams' perspective with the help of well-established communication guidelines. Clarity will avoid confusion and promote efficiency. Project managers need to be trained on hybrid scenarios and tools essential to managing better. They need to get exposure to project management tools, collaboration tools, and IT Infrastructure setup such as VPN, remote access, etc. concerning collaboration tools or using tools for virtual meetings – aspects like Polls, Hand raise, and Q & A options to collaborate better.
Maximize the opportunity of meeting at a physical workplace to clear the air on certain issues and make the best use of time to increase clarity on project goals and open issues. Establishing feedback loops while implementing the hybrid global project models is important. The project managers need to ask for feedback from the team. Leveraging surveys and getting additional details on feedback and implementation would be very handy.
With hybrid work, whether employees' desires have changed?
"Perks like free food and a corner office are no longer what people value most," Microsoft says.
Instead, a positive culture (chosen by 46 percent of survey respondents), mental health and well-being benefits (42 percent), and a sense of purpose or meaning are the top things workers want from an employer, aside from a good salary (40 percent). Flexible hours are also highly regarded.
Creativity is becoming increasingly important, and more employees seek to design their jobs around it. According to Microsoft, 70% of Gen Z workers and 67% of millennials are considering starting a "side project" or business to supplement their income in the coming year.
Summary
Hybrid global project teams present challenges and opportunities for the project managers, demanding prudent strategy and pragmatic planning. It is time for project managers to exhibit leadership skills by understanding hybrid models deeper. After all, projects are run by people, and the team needs to stay on course to deliver value to all the stakeholders.
Feel free to check out my discussion on this topic with Thomas Walenta in YouTube
You can subscribe and follow my podcasts and interviews with Project Management Experts on YouTube at https://bit.ly/2NDY8wd
You can subscribe to vCare Project Management YouTube Channel to catch future videos of our certification Q&A series and student success stories using the link https://bit.ly/2YF0wJl
For any questions related to Project Management career, training, and certifications, you can book an obligation free 15 minutes session with me by visiting https://bit.ly/2SbhTOK