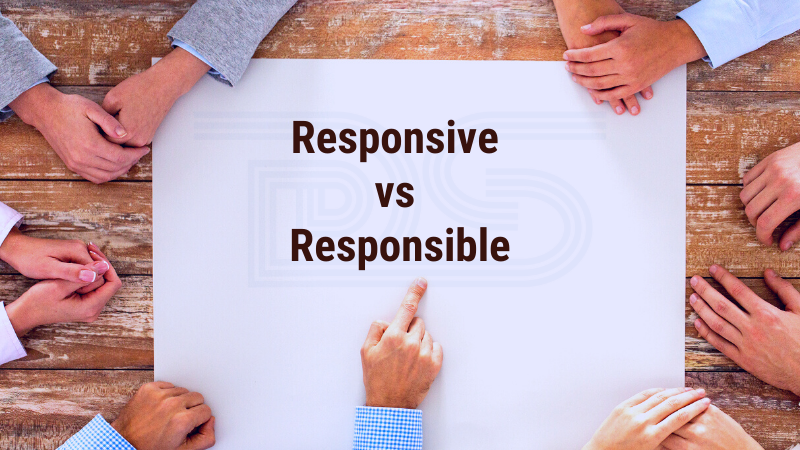 Responsibility and Responsiveness have the same Latin root, Responsus. Responsible means being morally accountable for one's actions. Responsive means reacting quickly with positive outcomes for all. In today's digital world, your customers, irrespective of whether they are internal or external, are looking for faster response times, coupled with the appropriate action. Even some large organizations have been unable to compete with small players because of being non-responsive.
Today's organizations and their projects need to be both responsive and responsible on a day-to-day basis. Especially when handling and delivering projects, a project manager, needs to be both responsible and responsive.
Defining Responsibilities
Right from the startup stage the project board or the corporate must define attributes such as tolerances, change authority, severity ratings, priority ratings, project initiation related documents etc., In fact, right from the business case validation stage, various responsibilities need to be assigned to stakeholders such as Corporate Management, Executive, Senior Users, Senior Suppliers and Project managers. Defining the responsibilities helps to bring upon the clarity on the job function they need to perform. It also helps in the alignment with business goals and brings about a common vision.
In the Project Management Office, different stakeholders have a different set of responsibilities for effectively meeting the project objectives in alignment with the program or portfolio objectives.
Examples of PMO Responsibilities would include:
Aligning the project resources and their goals towards project work and organizational strategy
Establishing governance structure and coordination of the same
Performing portfolio management functions
Ensure strategy alignment
Tracking benefits realization
Managing and Tracking data related to projects
Administration to support project/project team.
Managing communication to multiple stakeholders
Defining roles and responsibilities
When the corporate management sets a mandate, they also set forth any standards to be fixed or followed. An outline of the expected benefits will be shared. Senior Users will outline the desired outcome, anticipated benefits, etc.,
Project Managers Responsibilities
Project Managers responsibilities cut across Planning, Organizing, Leading, Monitoring, Communicating and Managing the risks. Responsibilities need to be well defined and communicated effectively. It is always recommended to have well established and agreed, roles and responsibilities for all the people involved in the project as it will be a means for effective communication. This aspect will also apply to the other stakeholders in a project. A Project manager will be playing multiple roles and will have larger responsibilities in a project assigned to him/her including but not limited to Quality Control, Management Reporting, Risk Planning, etc
The Project manager must do justice to the roles and responsibilities he/she is assigned and needs to cultivate the necessary skills to do so. Skills such as communication, negotiation are some other essential skills to name a few. The project manager also assesses and reports on the project performance during the closure stage.
Establishing Responsibilities
Responsibilities come along with the role. One person might play a different role and might take up different responsibilities based on that. These responsibilities can be accomplished using various tools and nature of the business and operational aspects aligned with the goals. How can this be done?
Audit what you have from an organizational standpoint, i.e. take inventory of Staff, Roles in the company.
Identify business operations and enumerate the tasks being performed in it.
Identify the gaps between project-program-portfolio
Identify functions that are lacking and in what functional area.
Identify required new positions, eliminate positions which are becoming irrelevant, and process which is no more required, etc.,
Outline Job Role, Description, Task/Functions, Responsibilities, Skills required, Experience needed, Performance indicators, etc.,
Prepare final organization chart for the project.
Get to the Collaborate, Review and Approval process at the executive level.
Establish RACI – Responsible, Accountable, Consulted and Informed
Communicate the roles and responsibilities across the organization through RACI
Importance of RACI and how to get that done
When implementing the roles and responsibilities, it's also easier to bring upon the necessary changes through RACI Rollout.
Responsible – Doing the Task – The person/role which is going to act on the task
Accountable – Owning the job – Responsible for the overall completion
Consulting – Consulted/Assisted during the task analysis/planning/execution/completion – Mostly individual
Informed – Keeping aware – Making cognizant of the task-related progress. Can also give feedback
RACI charts would be deployed across different phases of the project and various stakeholders' groups with roles. When clarity and focus are established with the help of the RACI charts, it can bring upon good results as they remove ambiguities in communication.
Problems in owning responsibilities
Responsibilities are effective only when the person/role can do something about a problem and provide actionable oversight for the group or stakeholders where the problem occurs.
What are the different existing issues concerning owning up of responsibilities?
Why people are not owning up are having problems in taking responsibilities?
Some reasons could be:
Fear of failure
Lacking interest in the areas of responsibilities
Missing deadlines
Challenging tasks
Inability to take risks
Lack of trust with the team members and stakeholders
Unfair treatment by team leaders and members
Frequent excuses
Having these problems, how can we resolve them or how can we encourage ownership by responsibility?
Just replacing people would not solve the problem. Rather leaders need to back them and identify the different perspectives and indicators mentioned above in the context of the issues and help alleviate them. Take initiatives to help them by providing training, skill up-gradation courses, aided with additional resources and tools that could support decision making. Allowing them to make mistakes and backing them up could be a way forward. Having frequent interactions with the project managers would be very helpful to solve problems and providing constructive feedback on how it can be handled better would be of definite help. Reinforce or communicate the roles and responsibilities and their alignment with organizational goals. Highlight their roles importance and its impact on the organization. Motivate small deeds without micromanaging things.
Being Responsive
Nowadays, being responsive has been one of the key factors which are part of the CSAT (Customer Satisfaction) quarterly evaluations in large engagements. So, responsive is an essential ingredient required for any project engagement from a holistic perspective which needs to be reflected across the project team. Its core components are value and speed. It is contrary to being reactive, which is acting without any specific plan or giving due thoughts and given as an excuse for speed.
Being responsive will become a critical component when there are specific deadlines to be met. Examples of such projects would be GDPR compliance, HL7 migration, Compliance within a timeline, as any delays would attract huge penalties. In such cases, the project managers who need to act on matters of urgent/immediate basis, with risks also involved, need to think of long term and short-term goals to be accomplished without giving in to any knee jerk reactions.
Becoming more responsive will take time and would require bringing upon a daily incremental change at the behavioral level. This activity would naturally be inhibited both in Leadership and team level. However, we all know that procrastination is the biggest enemy for being responsive. Here are five ways in which you can improve your responsiveness in projects.
Identify and note down the events where you became reactive in the past.
Practice mindfulness and at the same time, be aware of a timeline to respond. Try the SOBER Method (Stop, Observe, Breathe, Expand, and Respond mindfully)
Understand the culture shift in Agile methodology
Identify and categorize the areas you can practice being responsive.
Adopt tools such as Agility Evaluation Matrix, Todo List, Kanban Board, Alerting Tools etc.
After the implementation of these tools and methods, how will one know and track whether improvements are happening? Evaluation can be carried out at different levels, and some examples are provided here. Questions which might lead an evaluation of responsiveness improvement could be,
How much time does it take to respond to queries?
How much time do we choose to respond to emails on project engagements?
How much are we addressing/adhering to SLAs with our response for the first time?
How many outcomes have been successful with this change in responsiveness strategy?
How many times have we missed being responsive, and has it been escalated?
Handling problems of Poor Responsiveness
Project managers, most of the time, are responsive due to their experience and maturity. But in some cases, their responsiveness might be impacted due to dependencies. Though, it is always important to remember that expectation on the project team being responsive falls under their responsibility. What can be done in this case?
Be responsive first. Walk the talk. Always our followers inspire from us. As a lead project manager, you must be responsive with respect to key communication made with the peers and followers. When he/she walks the talk about being responsive, they would be the one who acts first and be demonstrable on the expectations.
Make any expectations explicit and set up an SLA on when you expect a response on your communication. Be fair with them. Define timelines when you want them to respond – in hours, days, weeks. Also, ask about how quickly they want your responses to be. Make it a two-way road.
Be Proactive if the other person is not responding according to the timeline, and follow-up to remind them. Contact them for an acknowledgement. Ask again and follow up with them if they drop the ball. Ask them if they have any other dependencies which you can help to get resolved if its a top priority.
Being responsible and responsive are both important in the current business world. Communication holds the key to being both responsible and responsive. Being mindful of these can help one to be a successful project manager.
For any questions related to Project Management career, training and certifications, you can book an obligation free 15 minutes session with me by visiting http://bit.ly/2SbhTOK
For the latest PgMP®/PfMP® stats visit https://bit.ly/38SSGiS
Subscribe to vCare Project Management YouTube Channel to view our PgMP® and PfMP® Success Stories: https://bit.ly/2YF0wJl
Subscribe and follow my Podcasts and interviews with Project Management Experts on YouTube at https://bit.ly/2NDY8wd