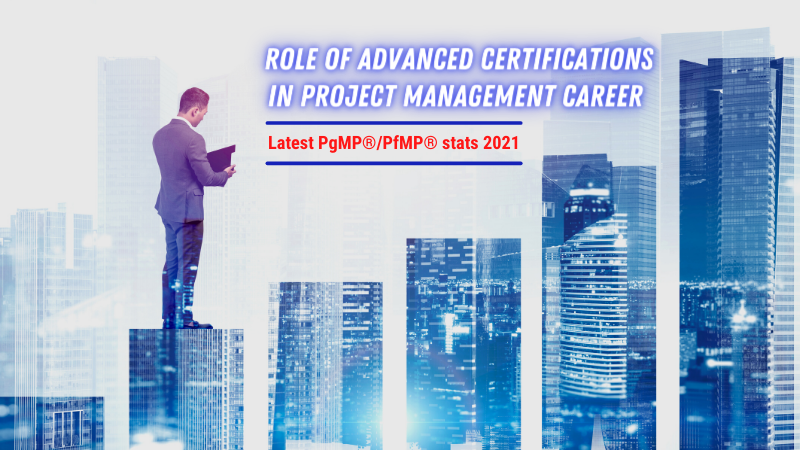 Most project management professionals with a certain number of years of experience would like to move up their career ladder to senior positions that provide them with higher visibility, wider recognition, and a definite bump in their pay scale. They would aim to become a
PMO Leader of their organization
A Program Manager handling multiple connected projects
A Portfolio Manager who drives the vision and mission of an organization through successful programs and projects
An executive who is implementing a strategic initiative for the success of the organization
Some professionals might be looking to migrate from their current organization to a better/higher position in another organization and might be wondering what could be one of the keys that open that door to success.
Advanced Certifications might be the solution.
Advanced Certifications

Advanced Certifications are for professionals,
Who are established in their careers but want to climb up further
Who want to increase their knowledge and improve professional ways of working
Who are working in a role much more extensive than their current designation
Who wants to prove a point to professionals in their space about their capabilities
Who wants to prove a point to themselves for self-motivation and increase their self-worth
Advanced Certifications help you to,
Change labels from being named an Experienced/Advanced professional to become an Expert/Master of the art.
Change levels to elevate yourself to higher levels in the organizational hierarchy. Earn the birds-eye view.
From "Doing the work right", move to a phase where you start "Doing the right work" to ensure your organization's mission and vision are accomplished through your actions. Go from Tactical to Strategic.
It opens doors that were earlier closed in your career and creates new doors for you to venture. Gain global recognition. SKIP THE QUEUE IN PROFESSIONAL EVALUATIONS.
Stand out from the crowd, Be that Differentiator.When all is Equal, the certified gets hired.
Eliminate career shocks such as layoffs and retrenchments.
Why PgMP® & PfMP®
The PgMP® certification recognizes advanced experience, skill, and performance in overseeing multiple related projects and their resources aligned with an organizational objective. PgMP® certification holders oversee a program's success — a way to group multiple related projects to achieve benefits that may not be realized if the projects were managed in a stand-alone fashion.
The PfMP® certification recognizes advanced experience, skill, and performance necessary to manage and align a portfolio of projects and programs to realize organizational strategy and objectives. PfMP® certification holders oversee one or more portfolios' success, balance conflicting demands between programs and projects, and allocate resources based on corporate priorities and capacity. As portfolio management continues to grow and organizations adopt it to achieve strategic objectives, it becomes more critical to have individuals competent in this practice area. As employers demand portfolio managers who can support the organization's strategic goals, PfMP® certification holders will gain a distinct advantage in employment and promotional opportunities over their peers.
Both PgMP® & PfMP® from PMI could help you achieve the possible elevation within your organization or get you the golden ticket to join your targeted organization. Compared with the PMP, which is more than a million globally, the numbers for PgMP® and PfMP® are still in the four digits, with PfMP® crossing the 4-digit mark just a few months ago.
The Numbers – What do they say?
Irrespective of the Pandemic concerns, professionals have been pursuing their PgMP® & PfMP® goals aided by the online/remote learning program options. PgMP® has crossed the 3500 number barrier, and as on 1st March 2021, it is now at 3543. PfMP® has crossed the 1000 number milestone, and as on 1st March 2021, it is now at 1035.
USA, China, India, Canada, and KSA contribute to the top 5 numbers in PgMP® and PfMP® numbers.
A unique aspect in PfMP® numbers is the surge of certification holders from KSA, which has overtaken India to become the second country with the maximum number of PfMP® holders after the USA. With our training partnership with the PMI-KSA chapter, I wish the numbers of not only PfMP® but also that of PgMP® surge ahead. Students from KSA and the PMI-KSA chapter can reach out to me to avail offer associated with our partnership.
vCare Project Management is proud to have supported the following students in February 2021 in their successful pursuit of certification. This 2021, we have been producing excellent results with 10 PgMP®s and 6 PfMP®s achieving success in their certification goals aided by our training services thus far.
In the year 2020, we supported 48 PgMP®s and 16 PfMP®s in achieving success. As on 1st March 2021, we have thus far aided 322 PgMP®s of the 3543 PgMP® professionals and 58 PfMP®s of the 1035 PfMP® professionals. We have supported 322 students across 44 countries in their successful PgMP® journey.
Because of the hardships that the companies and professionals are going through currently, I have decided to offer multiple discounts and flexible payment options to our upcoming mentoring and boot camp programs in 2021. These include,
A 20% discount for Active Duty or Veteran professionals from Army, Marines, Navy, Air Force, Border, and Coast guards or any other valid military service branch
A 20% discount for Women professionals
A 20% discount for Differently abled professionals
A 20% discount for professionals who are currently in dire financial constraints
Please email (dharam@vcareprojectmanagement.com) or reach out to me on LinkedIn to avail of this discount post appropriate scrutiny.
Given below are the various online programs' links. The online mentoring programs / virtual boot camps cover all time zones.
PgMP®: http://bit.ly/2oBKQXQ
PfMP®: http://bit.ly/2oBKQXQ
SAFe® / Disciplined Agile: http://bit.ly/3ogQY0N
PMP®: https://bit.ly/2BU0mFp
E-Learning: http://bit.ly/3b2HOid
You can supplement your PgMP® exam preparation using our PgMP4U mobile app: Android Users: https://bit.ly/30sau42; iOS Users: https://apple.co/2QUngkx
Subscribe to vCare Project Management YouTube Channel to view our success stories: https://bit.ly/2YF0wJl
We are planning to do more webinars in the coming weeks. Subscribe and follow my Podcasts and interviews with Project Management Experts on YouTube at https://bit.ly/2NDY8wd
Aspirants aiming to get the PgMP® / PfMP® / SAFe® / PMP® / Disciplined Agile Credentials in 2021 can book an obligation free session with me to find out how I can assist you in passing the exam in your very first attempt. For any questions related to Project Management career, training, and certifications, you can book an obligation free 15 minutes session with me by visiting http://bit.ly/2SbhTOK
PgMP4U LinkedIn Group: http://bit.ly/2SBPwIp
PfMP4U LinkedIn Group: http://bit.ly/31P7GKR
Conclusion
Going by the numbers and the process involved in gaining the PgMP® / PfMP® certifications, it isn't that easy for everyone to climb this mountain. These certifications are elusive by nature, and only with a determined focus, dedication, and brilliance coupled with hard work can one be able to achieve success.
I believe that this makes these certifications elite when compared with other senior project management certification offerings. This aspect alone could be the differentiator that highlights you from your peers in the project management community, helping you achieve your objectives.