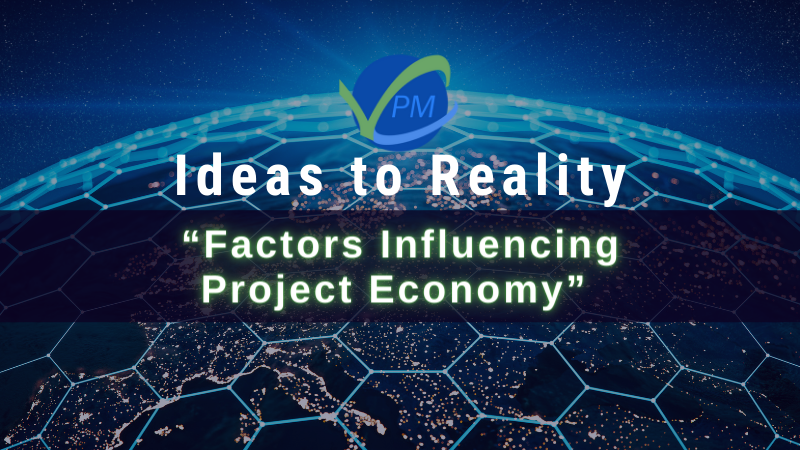 Project economy is all about people having the skills and capabilities which enable organizations to turn ideas into reality. The key is these projects should deliver financial and societal value through value streams incrementally delivered through projects. The following are the key six factors identified by PMI that influence the projectification in the project economy.
Climate Change
Buildings are being modified, new products are being introduced, new policies and regulations are being applied. Climate factors are one of the biggest factors influencing global projects. Climate central report found that about 300 million people in coastal Asia would be at risk because of rising sea levels by 2050. Apart from this, people worldwide are fighting to manage droughts, flash floods, volcanic eruptions, and raging wildfires. Climatic changes are a global threat, and many young minds are asking for actions from global leaders. This kind of awareness and activism increases action at the ground level, and project leaders are responsible for those actions inducing change.
Infrastructure projects like building sustainable cities can increase green space, manage water risk, etc… These projects directly or indirectly contribute to overall sustainability as well. These complex problems are issues that require a combination of systems and design thinking. The project managers need to respond based on a big picture perspective to manage a complex environment. Nowadays, companies need to have projects on climate projection and sustainability front as a matter of compliance and corporate social responsibility.
The project manager needs to practice agile as these projects change quickly along with technology that changes rapidly. Climate change-related factors influence every sector/industry. The project manager's mandate is to understand the project's business case and identify the climate-related factors to deliver project value. Projects, programs, and portfolios have to be aligned to understand this and act with a more creative, front-end-oriented approach for tomorrow's challenge. Therefore, the role of project managers and program managers is going to impact the future generation.
Artificial Intelligence (AI)
Artificial Intelligence adoption has just begun. The responsibility of appropriate implementation lies with project leaders mitigating societal-related risks, including ethical issues. As healthcare, consulting, and manufacturing industries have started adopting, uncertainty looms at a large adoption and transition. However, tools like RPA and AI have already started contributing to the automation of business processes at large, replacing humans doing monotonous jobs.
In the recent IPMA and PwC report in October 2020, AI is considered a tool, and it's more adopted for automation to augmentation and beyond changing the future. According to this report, 56% of the organization already has digital transformation projects, including AI adoption. However, it also highlights that 77% of the project managers don't have experience in using AI technologies in Project management, indicating that the adoption is still in its early stages. Artificial Intelligence will change project management in Integration, Documentation, Reporting, Forecasting, Budgeting, Resource Allocation, and Predictive analytics.
AI systems can help connect different Enterprise applications, including HR, Task Management Tools, repositories, etc. It can help set intelligent reminders to mitigate risks. AI tools can help in drafting documentation and can help get the data from other systems. AI can also help to organize the documentation for quick recovery through recommendation engines. Task report completion, the status of the work, and milestone tracking can be managed effectively by AI-based reporting. Adopting AI tools can help anticipate the problems early through prognosis with the help of specific indicators.
AI tools can help the project manager by helping with insightful information by analysis of Big Data or real-time stream of data. Decision-making aided by AI can be very useful for the project manager to take decisions or actions in the behavioral areas of people management, including Influence, Negotiation, Motivation, etc… Human touch is a factor that cannot be avoided, and AI can never replace it, yet it can aid. AI adoption in project management can significantly help project managers in Productivity, Decision, and Performance.
Adopting Chatbots can help provide the project's status, follow-up reports, providing templates, project plan, and status can help human resources work on something much more productive. This initiative will enable project professionals to think more strategically and prepare well-defined, high-level plans. Analysis of the project with the help of statistical or AI models would identify and quantify the risks. This aspect would also help in what-if analysis and validate the certain hypothesis to justify the stakeholders involved. It's expected the current adoption of AI among project professionals will move from 27% to 35% in the next three years. So, this calls for the project management professionals to invest their time in people skills which will never go away yet understanding the AI paradigm.
Globalization
The business, which is growing at a global scale in terms of people, trade of goods and service, information exchange, has taken an economic toll and countries started showing protectionist measures regarding trade policies, immigration, and work policies. Globalization will impact the future global trade, and countries will focus on inclusive growth to fuel the economy from within. Example(s): BREXIT, US-China Trade issues.
The COVID-19 situation has also added to the existing woes and has impacted global travel and trade. Apart from this, geopolitical factors, including nativism, racism, xenophobia, are impacting global projects executed by multinational, multi-ethnic, and geographically distributed teams. All these challenges are to be managed by the project managers. In addition, the increased volatility of the situation reflecting the business landscape and job market has to be managed by the project managers.
Project managers need to effectively remote work amidst geopolitical situations by collaborating, managing time zones and cultural aspects. Project leaders have to become Virtual Leaders managing lack of commitment, distractions, poor communication, low motivation, etc. This kind of change can be well managed by effective portfolio management driven at the organization level to minimize adverse impact.
Infrastructure Gap
For any investment that is capital intensive, there is a need to understand the data for decision-making. For example, the G20 global infrastructure outlook estimates that US$94 trillion is required by 2040 across 56 countries and seven sectors, but the budget falls short by US$15 trillion. The gaps exist depending on the investment required in this area concerning the current trends, which vary in different demographics.
The project managers and program managers are expected to be smart and agile for cutting costs and helping to expedite the operations faster. The infrastructure investment has been increasing for 3D Printing, Artificial Intelligence, Modularization, Robotics, IoT with Digital Twins for transformation. Singapore is currently working on a project to create a digital twin of the entire city-state.
The adoption of IoT infrastructure to collect more data is getting more attention. In addition, the advent of technology communication infrastructures such as 4G and 5G has increased cloud data streaming capabilities. As a result, operational efficiency, including an increase in productivity and extending of asset life, could be done only with the help of data and analytics.
Large megaprojects on infrastructure areas such as Dubai Solar Park and the Bridge linking Hong Kong to Macau and Zhuhai have large complexities and challenges posing more risks. It is also about augmenting the capacity required to get on with such mega projects. These projects also need to manage or defend political and financial pressures (Example: Halted 13$ billion airport projects in Mexico) through creative means to meet societal needs. Project managers need to address fiscal prudence and transparency.
Project and program offices also need to attain the balance on leveraging local and global suppliers on Megaprojects. Portfolio managers are finding difficulty in people who have experience managing projects of massive size and complexity. The infrastructure Gap to manage these gaps must be well understood by the project professionals, who must wisely adopt the necessary tools required for these endeavors.
Cybersecurity

According to the PMI signpost 2020 report, US$3.92 million is the average cost of data breaches globally in 2019. As we grow more digital, a push is happening in business, governments, and non-profit on how they operate as they are interdependent. Organizations are managing cybercrime, information warfare, and various threats at all different new levels.
Project leaders need to work with cybersecurity teams as the projects are progressing to manage cybersecurity requirements while building solutions. It is essential to understand that classification of information and its sensitivity to manage the threats faced. Non-IT sectors need to gain more awareness in the cybersecurity areas, and it needs to be implemented as an integral part of the organization.
Project managers of the future need to consider the value of data regardless of their domain. They need to understand the importance of understanding data ownership and the potential impact of data loss or breach. Understanding the cost impact of protecting the data assets also has to be counted in the projectification process. Risk management must encompass Cybersecurity as part of it as well.
Shifting Demographics
Key changes are happening in the areas of overall population demographics. The youth population is on the rise, and project managers need to align their leadership styles to suit the target audience more. In addition, the urban landscape is changing globally, and villages are becoming more urbanized with the young population who may lack the necessary experience with the new world. It is also difficult to navigate the projects with them. Also, we need to manage and make the best use of the job market with many young minds available.
Underdeveloped countries are moving across. For example, many projects are going on in African countries building infrastructure for their growth. This expansion would build the future for the people, and these countries willing to participate in the projects for creating a better world would require more understanding at a strategic level.
Feel free to check out my discussion on this topic with Reinhard Wagner in YouTube
You can subscribe and follow my podcasts and interviews with Project Management Experts on YouTube at https://bit.ly/2NDY8wd
You can subscribe to vCare Project Management YouTube Channel to catch future videos of our certification Q&A series and student success stories using the link https://bit.ly/2YF0wJl
For any questions related to Project Management career, training, and certifications, you can book an obligation free 15 minutes session with me by visiting https://bit.ly/2SbhTOK