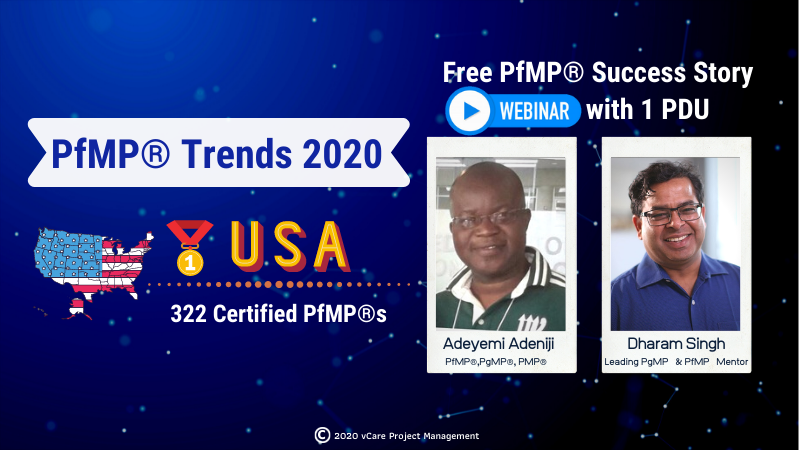 True that the coronavirus has impacted the global population on a large scale with many losses happening across business lines. Governments and People are showing resilience to the challenge that nature has thrown upon us. Humanity has bounced back from far great miseries in its history, and I am sure we will overcome this too in the coming weeks.
Once again, history repeats itself: the recent outbreak of coronavirus has caused a significant impact on the big corporate powerhouses and the daily life of ordinary citizens. Humanity has bounced back from far great miseries in its history, and I am sure we will overcome this too in the coming weeks. The plans made by the government and resilience shown by the citizens instill courage for a better future.
Meanwhile, amidst all this duress, Mother Nature is as such that it will continue to do its work of surprising us in its way. Some professionals are also similar to Mother Nature in that manner. Aspirants of PfMP® have amazed me with their large numbers and success over the past three months. In this period between Dec 23, 2019, to Mar 16, 2020, a total of 32 professionals have successfully cleared their PfMP® certification exams. Congratulations to all the 32 professionals.
This number is a great achievement, considering the times we are in. Of the 32 professionals who have passed the exam in this period, I am delighted to announce that two of them have taken the assistance of vCare Project Management to support their certification journey. Special thanks to Yemi Adeniji (Group Mentoring Program) and Rakesh Khosla (Application Support) for trusting my guidance.
PfMP® Stats
The USA continues to maintain its top position with 322 PfMP®'s
India is fast catching up on Canada and is threatening its second position with just only one count separating them
The African continent has 17 PfMP®'s thus far of which South Africa and Nigeria hold 5 and 4 PfMP®'s respectively
Saudi has a total of 59 PfMP®s now, where 8 PfMP®s have been benefitted from our guidance which is 14% of the total global PfMP®s in Saudi Arabia.
vCare Project Management is the most trusted training provider with a 100% success rate in PfMP® certification. It helps you to gain the skills and knowledge required to pass your PfMP® certification in the first attempt with an above-target score.
PfMP® Success Story Free Webinar with Yemi Adeniji – Earn 1 PDU
As I revealed in my earlier article, I am keeping myself occupied with a lot of online/virtual training programs of PgMP® and PfMP® over the past few weeks, along with making multiple video sessions with Project management experts and documenting of certification success stories. Just last week, I had completed a session with Ahmad Hassan, from the USA on his recent PgMP® success. To watch that webinar, click here.
With immense pleasure, Yemi Adeniji has agreed to share his PfMP® success story with us. I invite everyone to attend this free webinar on Apr 05, 2020.
Webinar Time: 1:00 PM – 2:00 PM (PST) / 9:00 PM – 10:00 PM (BST) / 9:00 PM – 10:00 PM (WAT) / 11:00 PM – 12:00 AM (AST)
In this webinar, Yemi will share his insights on,
Essentials that one needs to cover for PfMP® preparation. His Eligibility check, the Application process, hurdles encountered, and essential tips that enabled him to pass the exam in the first attempt.
What was his motivation to pursue PMP®-PgMP®-PfMP®? Why should one pursue all the three as you have done so?
How would this PfMP® aid him in his work right now? How had PMP® and PgMP® had helped him in the past?
What is the value that PMI certifications such as PMP®, PgMP® and PfMP® hold in the professional space in Africa, especially in Nigeria?
How his certifications benefit his work in the Government sector?
How his certifications have benefitted his work in Transportation domain?
Other challenges in Industry
His advice to PgMP® and PfMP® aspirants
Aspirants can learn from Yemi's experience and insights to not only sharpen their certification preparations but also to fine-tune their career plans. I will also share my tips to prepare and pass the PgMP® exam in your first attempt. You can watch this free webinar at your comfort and gain 1 PDU as an added benefit.
You can join this webinar by registering using the below Link,
Webinar Link : https://bit.ly/2JlQPqF
Because of the hardships that the companies and professionals are going through currently, I have decided to offer multiple discounts and flexible payment options to these programs. Stated offers will be decided on a case by case basis and to know your eligibility, reach out to me in a personal message or kindly mail to info@vcareprojectmanagement.com. Please share this information with your friends who would find it useful.
3 Days Virtual Program (Standard 9 AM – 5 PM) with a couple of breaks in between
5 Days Virtual Program (5*4 hours/session) Half a Day programs
4 Weeks – 12 Weeks Weekend only Virtual Program (1 – 4 hours per day, either Saturday or Sunday or Both)